Tarot Readings with Jillie Freeman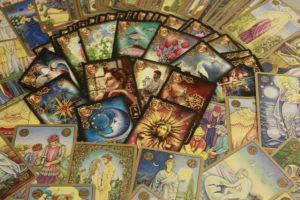 Jillie Freeman is a student of Kathleen's who earned her Reiki Master/Teacher certification in February 2016.  She is a gifted Reiki practitioner, as well as a gifted Tarot reader.  Jillie started reading Tarot fifteen years ago as a way to help her understand and bring her through personal tragedy.  She has studied with Katrina Wynne, M.A., psychologist and author of Transformative Tarot Counseling and successfully completed Ms. Wynne's Professional Tarot Consultant course.
Jillie's style of reading helps people work through personal challenges, trauma, and life changes.  She uses Tarot as a healing art and sees it as "transformative medicine."  She reads intuitively, combining what she has learned about the Tarot and her intuitive gifts to give compassionate, insightful, and meaningful readings with clear, actionable outcomes.   She is available for sessions via email, Skype, and in person for those who live locally.
Jillie is also a graduate of Eastern Mennonite University. In Fall 2016, she taught a "Holistic Tarot" course through Bloomsburg University's Department of Corporate and Continuing Education.  She also plans to continue her studies in the fall to earn a Master's degree in Holistic Life Coaching. She lives in Bloomsburg with her husband, children, and beloved boxer, Buddy.
To contact Jillie:   
Phone: 570-218-9877
Email:  [email protected]
Website: http://www.jilliefreeman.com
Twitter: @jilliefreeman
Facebook: http:www.facebook.com/jilliefreeman